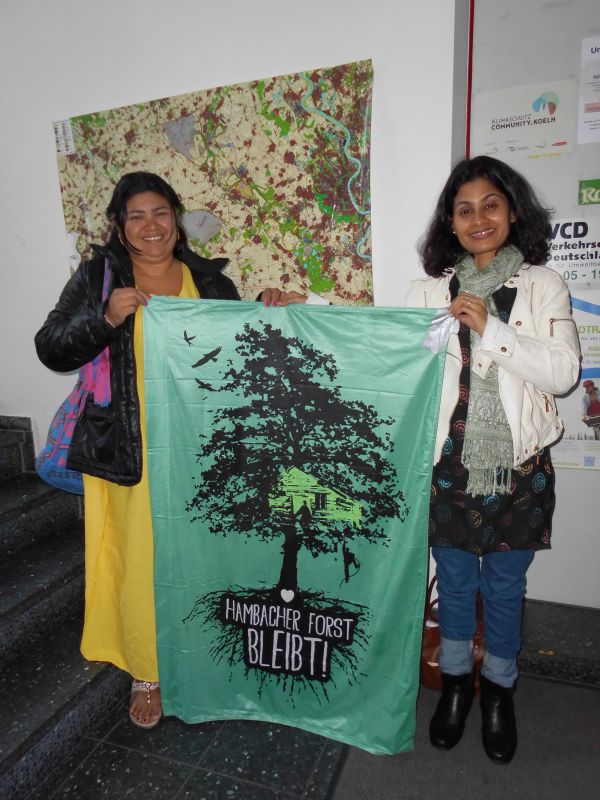 Dieser Text erreichte uns zur Veröffentlichung. Wer mag, darf gerne übersetzen (als Kommentar):
"This Sunday and Monday (October 2nd and 3rd) a series of presentations, discussions and workshops took place in Cologne organized by an anti-capitalist alliance bringing activists from struggles in Bangladesh,
Columbia and South Africa from regions affected by coal extractions, coal power plants and loading facilities. These communities have utilized multiplicity of tactics and by their persistence, resolve and presence stood in a way, slowed down and even stopped numerous projects. In effect, being living blockades of many of these large projects. Many grassroots of these initiatives, projects and direct action campaigns became a form of front line defense. Here are some of their stories:
Bangladesh with world's highest population density and with over 80% of the country affected by seasonal flooding has been spared large scale open cast mining up to mid 1980's mainly due to the inability to
relocate those affected. This changed with the Phulbari project in Dinajpuur which immediately sparked wide opposition with the government selling the contract of the proposed mine to Global Coal Resource
Managmenta a British private company. Around 130,000 families had to be forcefully evicted and 14,600 acres of farmland had to be expropriated and devastated. The already very strained water resources were affected even further. The coal exports from this project were to take place through a proposed loading facility planed to be built in the middle of Earth's larges mangrove forest habitat of Sundarbans.
Despite its catastrophic impact GCRM was to be exempt from paying taxes for more than 8 years. Resulting outrage was reflected by 80 000 people coming out to protest in a massive demo during which 6 people were shot and killed. The company was suspected of bribing the paramilitaries to commit this massacre. The GCRM managed to avoid any legal responsibility however this event caused the contract to be canceled and the company leaving Bangladesh.
The incident is portrayed in the video: History of Phulbari
https://www.youtube.com/watch?v=-C_PBdER0yk
The Phulbari resistance struggle continues its fight to this day by following the GCRM with protests at its shareholders meetings and holds demos under the parliament and at other functions connected with this company.
State Repression for fossil fuels energy also included burned villages for gas fields, continuing attempts to build a port facility in Sulderbans ensuing with additional massive national rallies and international days of action and solidarity to save the Sundarbans.
Rubber bullets and bird-shot was used against these protests with many serious injuries and this repression was followed like in Phulbari before with, women's marches against armed police. This project was halted for the time being as well.
Strategies of the protests included spreading the word of the struggle through small covert community meetings during which information was shared on the status of anti coal-mining struggles in England and Germany.
The impact of coal mines and coal power stations in South Africa:
Communities in SA have been decimated by coal extraction for over 100 years with two connected hot spots of air pollution being the most toxic in the world. Ailments of asthma, black lung and a long list of other respiratory illnesses being of pandemic proportions in these areas.
This is being challenged by South African activists, who are not just fighting coal as an energy source but also question and attack the neo-liberal system itself that allows for this reality.
Different strategies that have been used are: marches, pickets and diverse methods used before in fighting apartheid. This includes going after investors and financiers of the coal infrastructure. Sending out call outs to activists world-wide, to not just do the same but also affect all local CO2 emissions with their global impact. South African activists have reminded those in power to uphold social contracts and international agreements. Local communities witnessed first-hand how government support and subsidies of coal energy interests has had a magnified effect on the loss of transparency and increased corruption already so high in Africa. This has been termed as Coalruption. This same process also results in activists being threatened, injured and meetings often disrupted by provocateurs.
One of the groups involved in the struggle is Earth Life Africa, which focuses on Climate, Energy, social inequality, food and water insecurity. The decimation of the African Coal Mining Regions that have been exploited for over 100 years is also illustrated by a documentary:
"Bliss of Ignorance".
The Colombian struggle was represented by one of the founders and legal representatives of the Indigenous Woman's Council from Departamento of La Guajira which is the second most poor region in Colombia with serious water shortage issues. After initial exploration in the 1960s brown coal lignite resources were found. Mass eviction ensued with no prior warning and no offers for their land being extended by the Cerrejón LLC Company.
This mobilized a wide international response to check all national and international legal protections, filing protests and legal cases on many different levels. Civil society protests themselves were limited by the paramilitaries protecting the extractionist's interests. Local communities were educated to prevent coal mining companies exploiting illiteracy by bringing groceries to those living on top of coal resources and having them sign what they claim was a receipt for the groceries with the document turning out to be agreement to allow the companies to mine on their land and in effect destroying it as far as farming use is concerned and infringing on the right of people to move on their own land. With both the government and the companies taking away the
autonomy of those affected. With few women marrying any more as the limited state and corporate support is higher for individuals then couples and families leading to even further alienation and atomization of communities. These issues have been portrayed by the documentary:
"La Buena Vida".
Finally it is of extreme importance not only to keep up with all the regional global struggles against extreme energy and extend our solidarity but most of all be aware of the high level of privilege enjoyed by all in the global north including the activists themselves.
The International Coal Action Network will be holding a meeting in Philippines later on this month with all invited to follow its proceedings and express their solidarity."